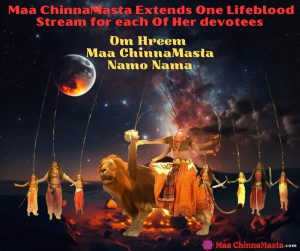 Maa ChinnaMasta Destroys the last and most important enemy of spiritual liberation – the ego. The Great Cosmic Wisdom Symbolised by Maa ChinnaMasta Guides sincere devotees to gain freedom from the limitations inherent to their incarnate spirits.
The Blood Coming Out Of Her Neck Symbolises The Life Force That Animates the universe And Sustains all life.
Out Of Her Generosity Maa ChinnaMasta Provides One Blood Stream To any sincere devotee She Chooses To, Feeding them directly from the nectar of the creation. Such Blessings Brings, The Divine Mother, Maa ChinnaMasta.