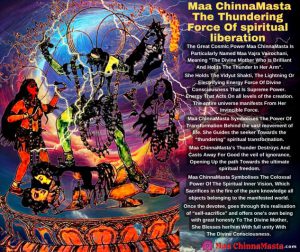 The Great Cosmic Power Maa ChinnaMasta Is Particularly Named Maa Vajra Vairochani, Meaning "The Divine Mother Who Is Brilliant And Holds The Thunder In Her Arm". She Holds The Vidyut Shakti, The Lightning Or Electrifying Energy Force Of Divine Consciousness That Is Supreme Power. Energy That Acts On all levels of the creation. The entire universe manifests From Her Invincible Force.
Maa ChinnaMasta Symbolises The Power Of Transformation Behind the vast movement of life. She Guides the seeker Towards the "thundering" spiritual transformation.
Maa ChinnaMasta's Thunder Destroys And Casts Away For Good the veil of ignorance, Opening Up the path Towards the ultimate spiritual freedom.
Maa ChinnaMasta Symbolises The Colossal Power Of The Spiritual Inner Vision, Which Sacrifices in the fire of the pure knowledge all objects belonging to the manifest world.
Once the devotee goes through this realisation of "self-sacrifice" and offers one's own being with great honesty To The Divine Mother, She Blesses her/him With full unity With The Divine Consciousness.