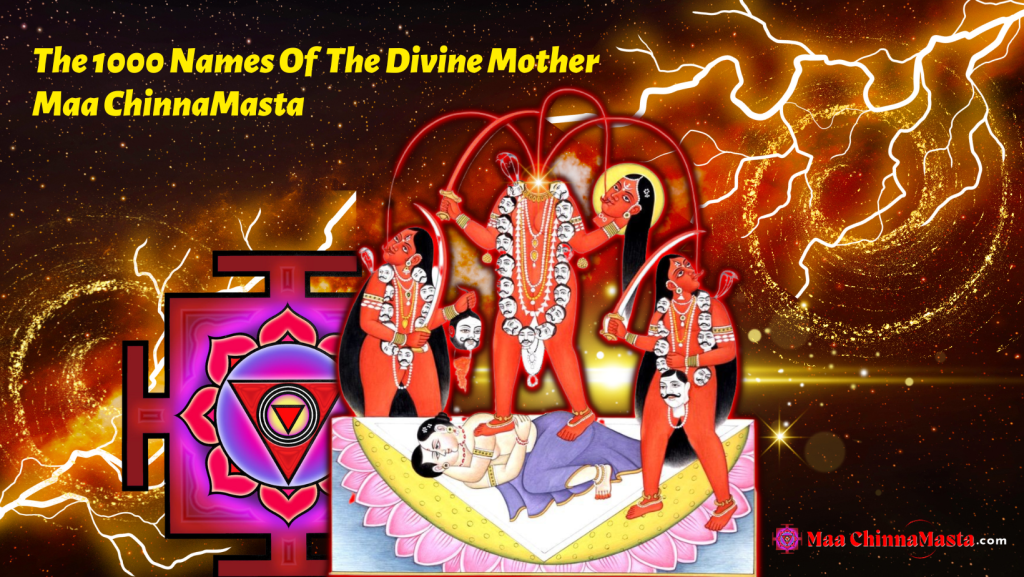 Contemplate The "Names" And "Meanings" for worship and meditation
Every Divine "Name" Of The 1000 Names Of The Divine Mother Maa ChinnaMasta Is A Meditation for the seeking mind. Each "Name" Presents the devotees and seekers With The Blessed Opportunity to worship and meditate On The Divine Mother. With sincere contemplation Of Each Divine "Name" And "meaning", seekers and devotees are Guided And Led to delve their minds deeper into the understanding and knowledge Of The Supreme Divine Mother Of the universe. 
Each "Name" Leads Towards deeper understanding
The numeric order Of The 1000 Names Of Maa ChinnaMasta reveal a significant pattern. In the beginning, The "Names" Symbolize The Aspects Or Attributes Of The Divine Mother, Which Are  Most Evident to the worshippers, such as The Fierceness, The Protectiveness, The Striking Of fear in the hearts of the ill-intended, The Benevolence And Mercilessness for evil and more. 
The "Names" Then Graduate To Symbolize The More Subtler Aspects Of The Divine Mother's Depiction, for example Maa ChinnaMasta As Maa Chapala, Maa CharuDehini, And Maa Lalajjihva. 
Eventually, The Next "Names" Begin Guiding Deeper Into the understanding Of The Divine Mother's Powers And Omnipresence in relation to Awareness/Consciousness And Greater Wisdom. The "Meaning" Of These "Names" Lead the mediators and worshippers to a higher plane of realization. 
Seekers and devotees should devotedly contemplate On The 1000 Names Of Divine Mother Maa ChinnaMasta to be Blessed with prosperity in life as well as advancement on the path to spiritual liberation. 
The 1000 "Names" Through Which devotees praise Maa ChinnaMasta, And Their "Meanings"
1. Maa Prachanda Chandika – "Most Fierce And Protective Mother Chandika"
Read more About Maa Prachanda Chandika from: https://ChinnaMasta.com/Maa-Prachanda-Chandika/
2. Maa Chanda – "Indomitable"
Read more About Maa Chanda from: https://ChinnaMasta.com/Maa-Chanda/
3. Maa ChandaDevyAvinashini – "The Divine Mother Chanda Who Is Indestructible"
Read more About Maa ChandaDevyAvinashini from: https://ChinnaMasta.com/Maa-ChandaDevyAvinashini/
4. Maa Chamunda – "The Divine Mother Who Is Unrelenting, Unvanquishable, Striking fear at the heart of those with weak-belief, impure, ill-intending minds"
Read more About Maa Chamunda from https://ChinnaMasta.com/Maa-Chamunda/
5. Maa SuChanda – "The Benevolent Divine Mother, Merciless to evil"
Read more About Maa SuChanda from https://ChinnaMasta.com/Maa-SuChanda/ ‎
6. Maa Chapala – "Mother Chapala Can Cause Instantaneously"
Read more About Maa Chapala from https://ChinnaMasta.com/Maa-Chapala/
7. Maa CharuDehini – "Divine Mother With The Most Magnificent Form"
Read more About Maa CharuDehini from https://ChinnaMasta.com/Maa-CharuDehini/
8. Maa LalaJihva – "Divine Mother Who Immerses with life With Highest Engagement"
Read more About Maa LalaJihva from https://ChinnaMasta.com/Maa-LalaJihva/
9. Maa ChaladRakta – "Divine Mother Who Has Blood Forever Flowing"
Read more About Maa ChaladRakta from https://ChinnaMasta.com/Maa-ChaladRakta/
10. Maa CharuChandraNibhanana – "The Divine Mother Is Most Beautiful, as is the wonderful moon which glows against the darkness of the night sky"
Read more About Maa CharuChandraNibhanana from https://ChinnaMasta.com/Maa-CharuChandraNibhanana/
11. Maa ChakorAkshi – "The Divine Mother With Most Beautiful Eyes"
Read more About Maa ChakorAkshi from https://ChinnaMasta.com/Maa-ChakorAkshi/ ‎
12. Maa ChandaNada – "The Divine Mother Causing The Most Powerful Vibrations"
Read more About Maa ChandaNada from https://ChinnaMasta.com/Maa-ChandaNada/ ‎
13. Maa Chanchala – "The Divine Mother Symbolising Most Active Energy"
Read more About Maa Chanchala from https://ChinnaMasta.com/Maa-Chanchala/
14. Maa Manonmada – "The Divine Mother, Transcendental, Ecstatic"
Read more About Maa Manonmada from https://ChinnaMasta.com/Maa-Manonmada/ ‎